What the world needs to see NOW is a broad and diverse movement in this country that is determined to stop the crimes of our government that are committed everyday, around the world, in our name. And that's what your donation will make possible in the year ahead. Please take a minute – really, just a minute – to watch this video capturing a few of the highlights of bold and creative actions in the past year by World Can't Wait activists here in Chicago and around the country. Then donate whatever you can NOW, when your donation will be matched, thanks to other generous supporters. Thank you!
Start the New Year Right!
We received this announcement from Stop Mass Incarceration Network Chicago:
NO NEW YEAR UNDER THIS OLD SYSTEM!
WE CAN'T BREATHE!
When: 10 PM, Wed., Dec. 31
Where: Tribune Plaza, 435 N. Michigan Ave, Chicago
Bring everyone you know! Bring your whistles! All actions should be nonviolent and creative.
Bring banners and signs you can carry under your coat. Please be on time, bitter cold weather predicted, dress warmly!
Read more here: "Rock in the New Year with Resistance to Police Murder!"
If you are on Facebook, please "join" the event there and invite all your friends!
---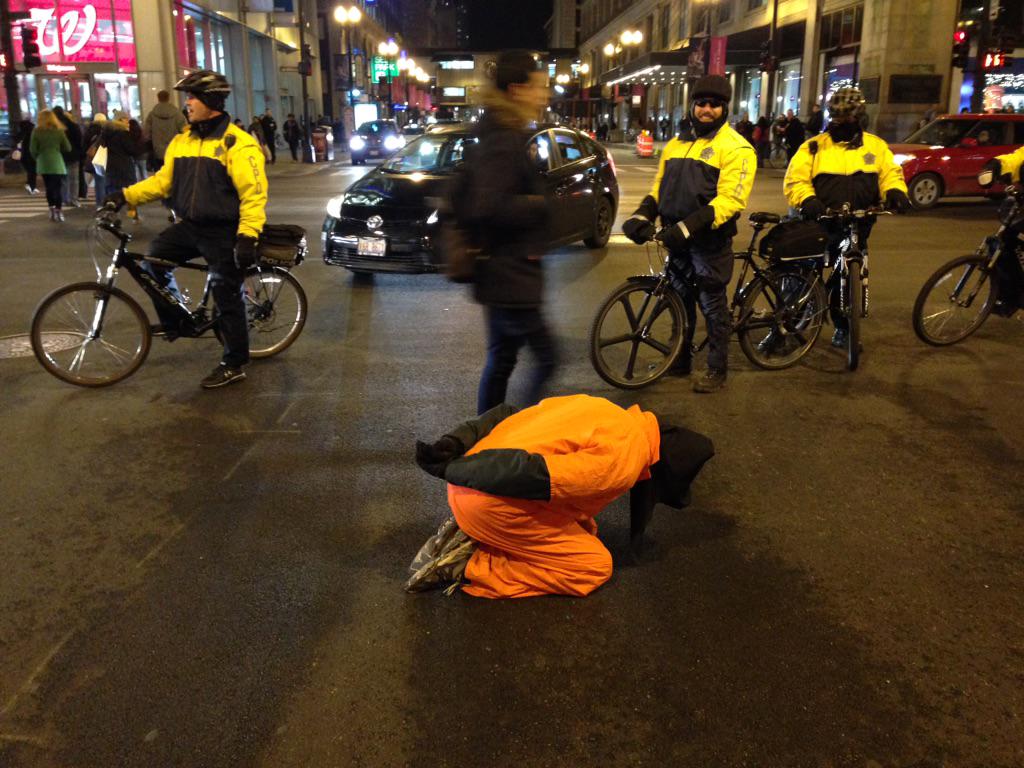 New Year's Resolutions:
Close Guantanamo – End Torture!
Thursday, Jan. 15
4:30 Rally and Protest, starting at The Art Institute, Chicago
7:00 Close Guantanamo Now! Panel with Andy Worthington, Candace Gorman, and Debra Sweet
Grace Place, 637 S. Dearborn, Chicago
On January 11, the US torture camp at Guantanamo will have been open 13 years. More than 100 men are still held, the majority of whom were cleared for release years ago. They suffer not knowing if they will be released, held indefinitely, most without charges or trials. Some are still on protest hunger strike, and being force-fed by the U.S. military. Join World Can't Wait in protesting this shameful anniversary with a protest followed by a rare opportunity to hear leading voices working to close this torture camp.
Andy Worthington is a British freelance investigative journalist. He has been researching and writing about Guantanamo since 2006, and has worked with the United Nations as a consultant and was a media partner to WikiLeaks to prepare for the release of its files pertaining to Guantanamo. He is the co-founder of the Close Guantanamo campaign, authored the book "The Guantanamo Files: The Stories of the 774 Detainees in America's Illegal Prison," and co-directed the documentary "Outside the Law: Stories from Guantánamo." His website, featuring regular blogs about Guantánamo, receives half a million page views per month and has been archived by the British Library. In 2013, in recognition of his work on Guantánamo, he was short-listed for the prestigious Martha Gellhorn Prize for Journalism. He is the co-ordinator of the new campaign StandwithShaker. Andy will be speaking in Chicago with Candace Gorman, civil rights attorney and blogger who represents a man still held at Guantanamo, and Debra Sweet, the director of World Can't Wait.